Sale price
$299.99
Regular price
$399.99
Unit price
per
SALE
Sold out
View full details
Features:
 A Must-Have for Deep Cleaning - The TAB T9 Pro wet dry vacuum features dual rollers that rapidly rotate to scrub your floor, removing loose dirt, distributing fresh water, and collecting everything in the dirty water tank. Even when you think your floors are clean, try the TAB T9 pro - the dirty tank tells all.

 Dual Brushes Make Cleaning More Efficient- Single roller brush wet dry vacuums require several passes to clean viscous fluids like milk, ketchup, etc., whereas dual roller brushes can drastically reduce cleaning time. The two rolling brushes each have their own drive, which allows you to move effortlessly back and forth throughout the floor.clean.

 Smart Sensor Technology - The TAB T9 Pro smart vacuum mop is equipped with advanced sensor technology that detects wet and dry messes and adjusts suction power and water flow accordingly, ensuring complete cleaning every time.

 Quick Drying Mode - When you want to maintain the TAB T9 Pro's powerful cleaning performance, simply activate the quick dry mode. This boosts suction power, increases roller brush rotation speed, and ramps up water flow for more efficient cleaning with less water residue and streaks.

 Self-Cleaning System for Ultimate Convenience - With the TAB T9 Pro's self-cleaning brushes, you'll never have to touch dirty brushes on a clean floor again. As you clean, the brushes clean themselves, and after use, the self-cleaning function flushes the inner tubing and brush roller automatically. (Please note that to prevent odor, you should clean the dirty water tank after use and let the roller brush dry on the charging dock.)

*Customers from other countries purchase our product, which is designed for US plugs, will need to purchase an additional adapter.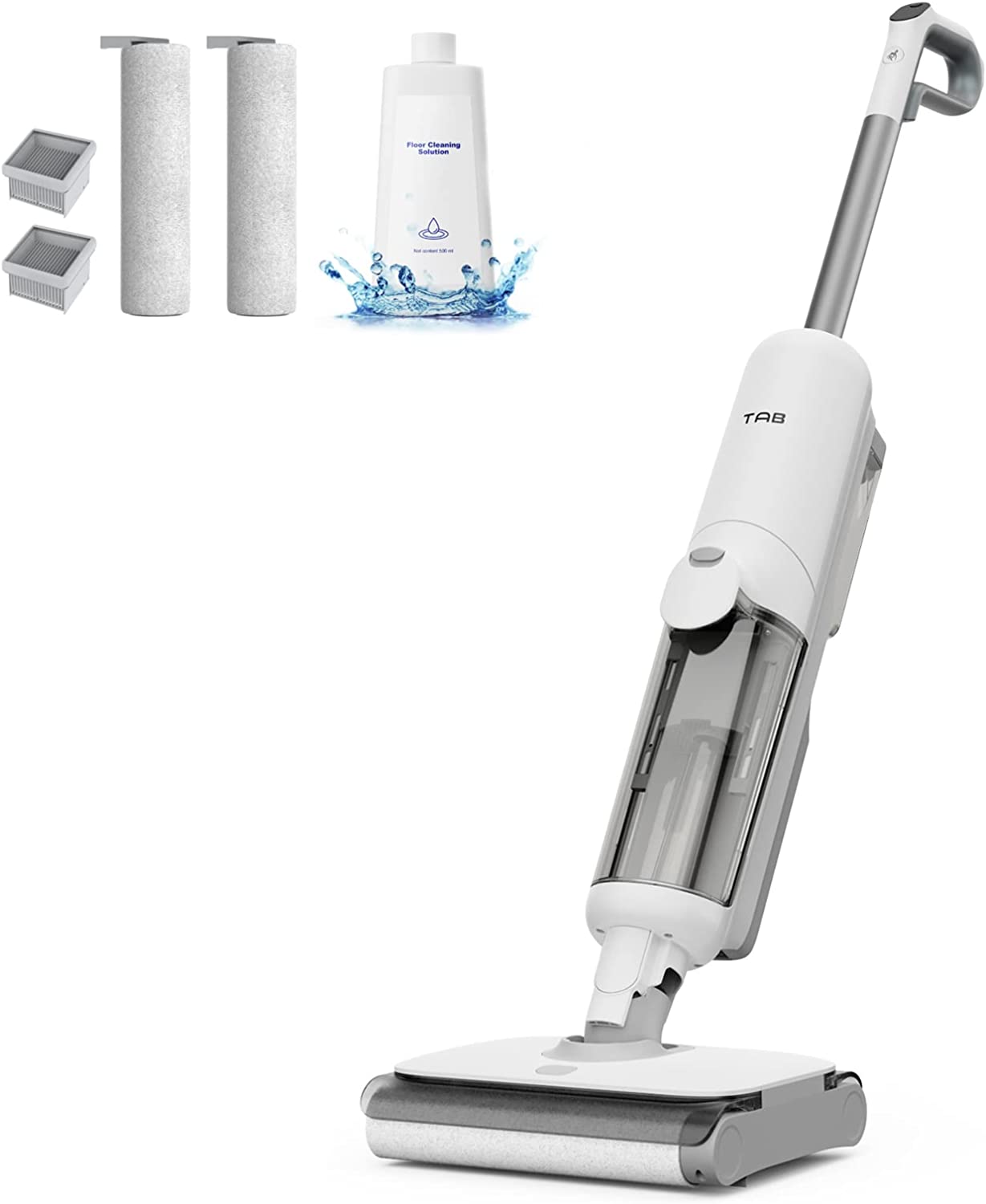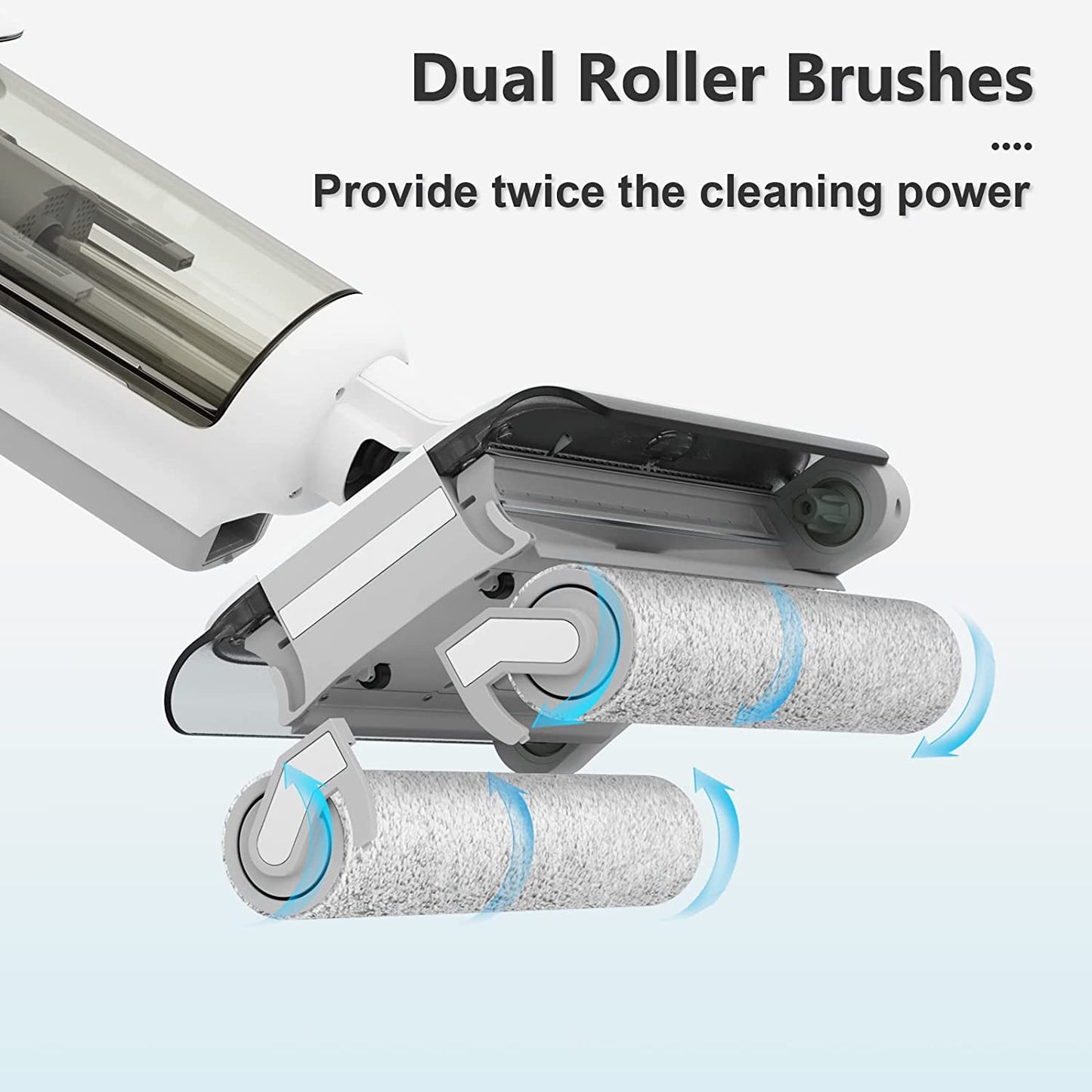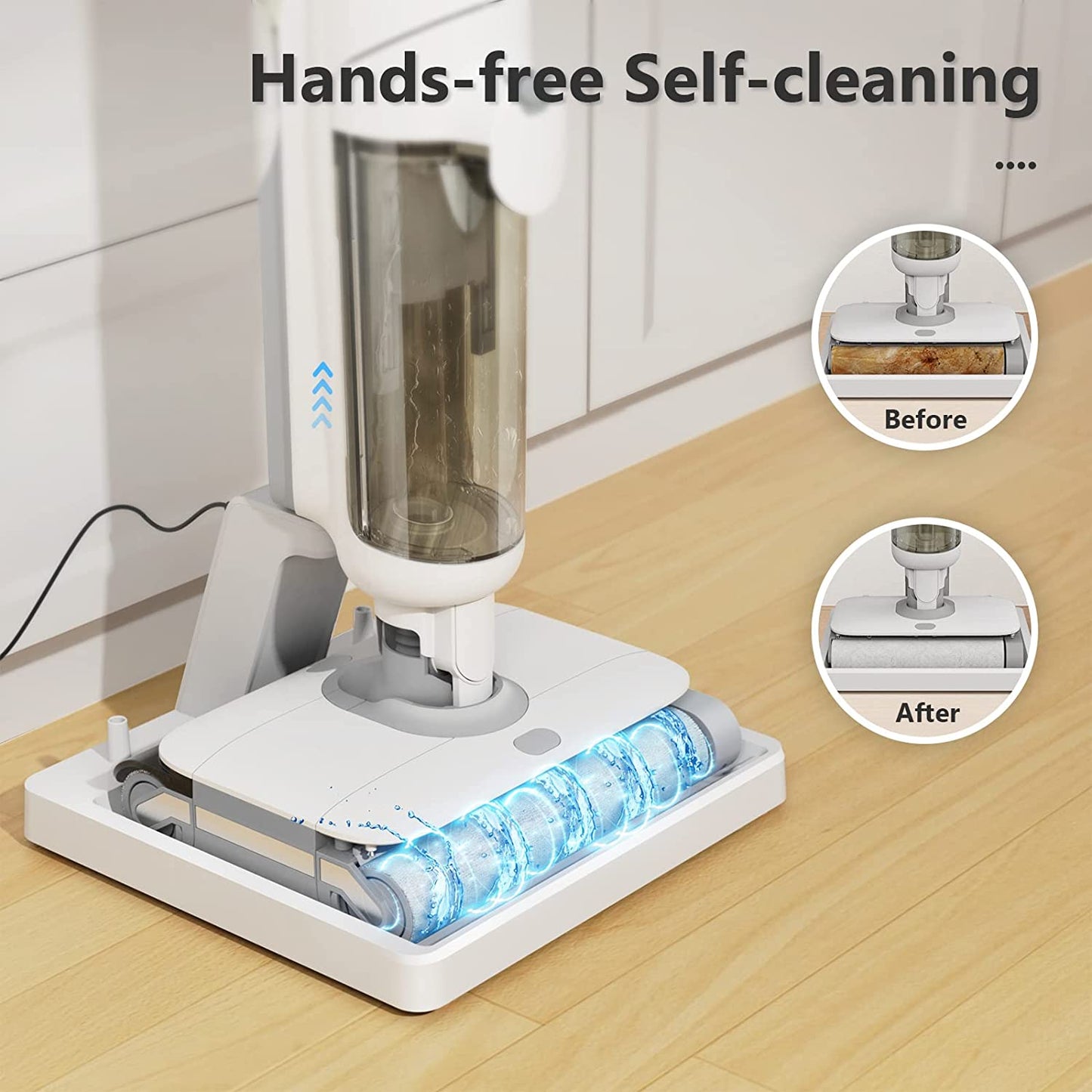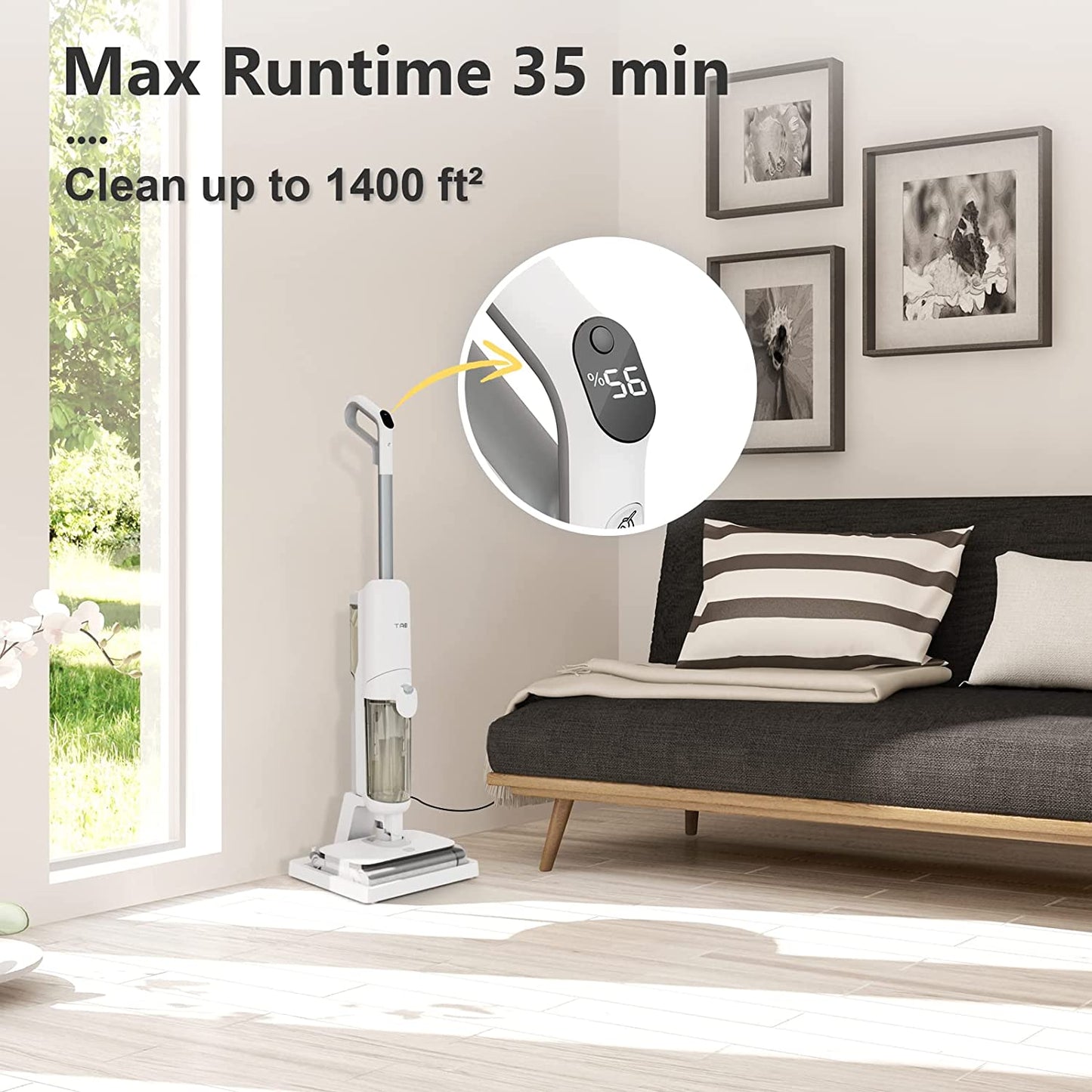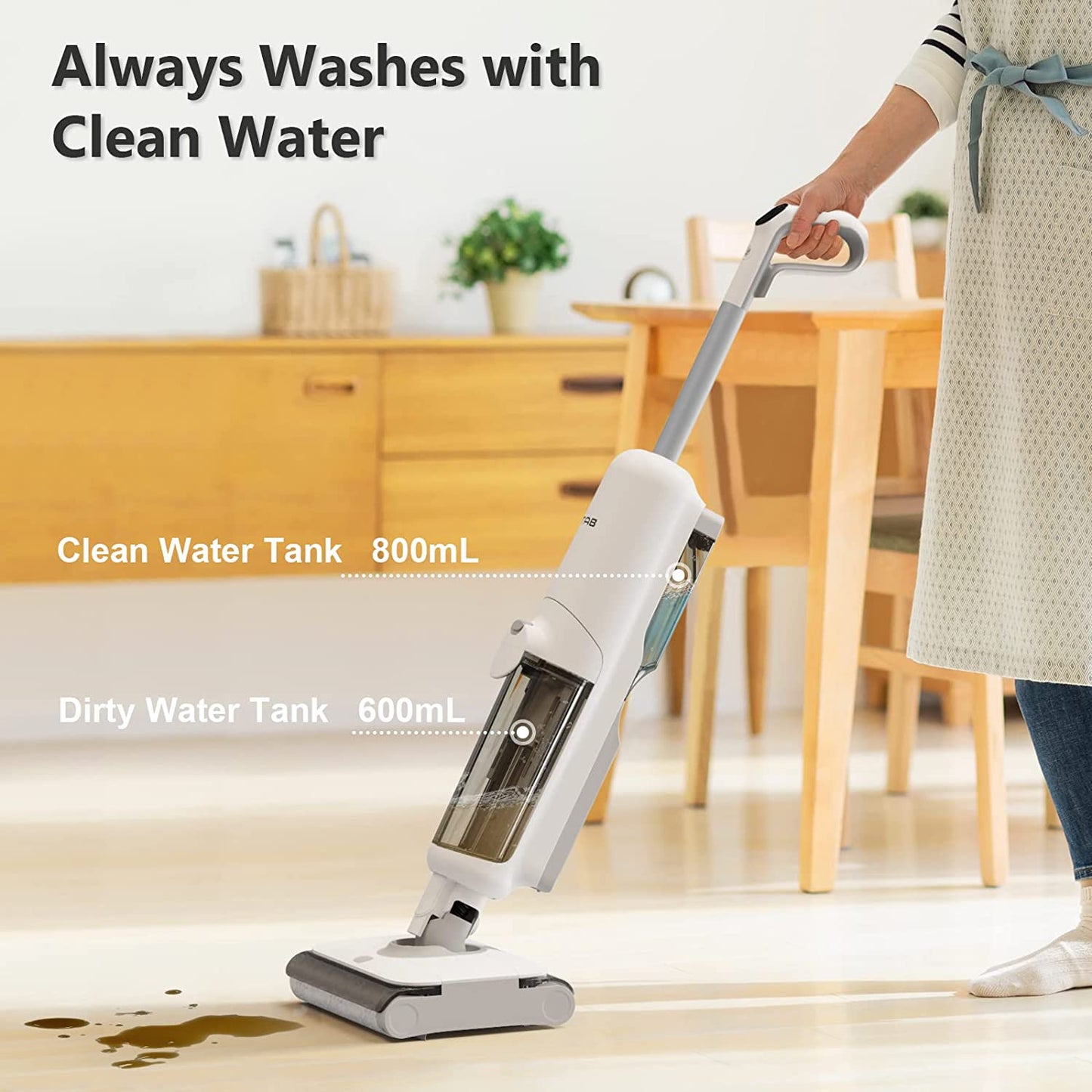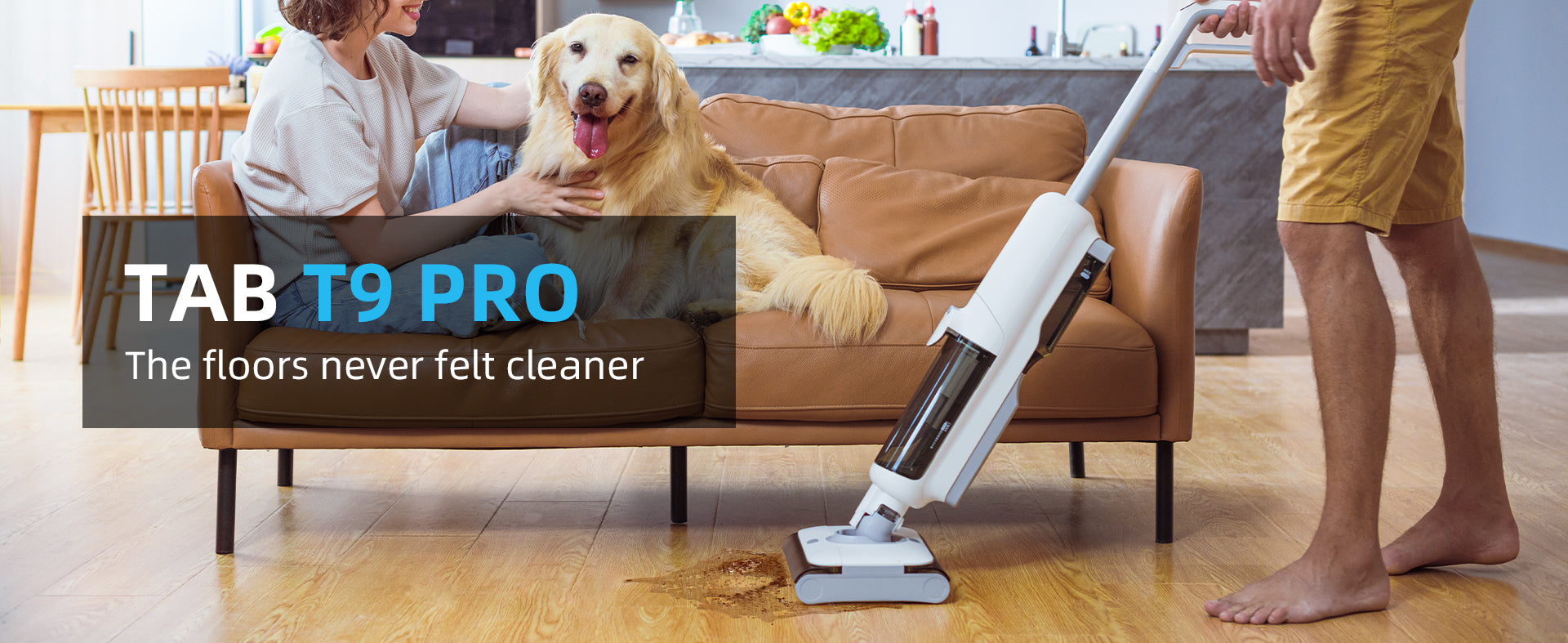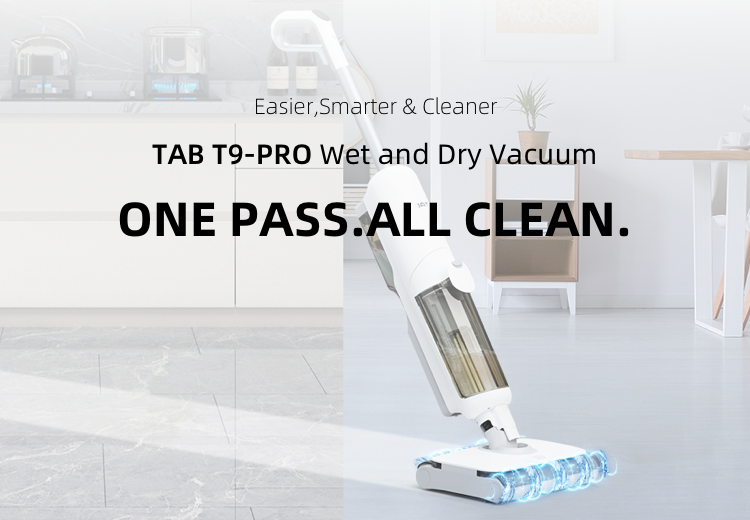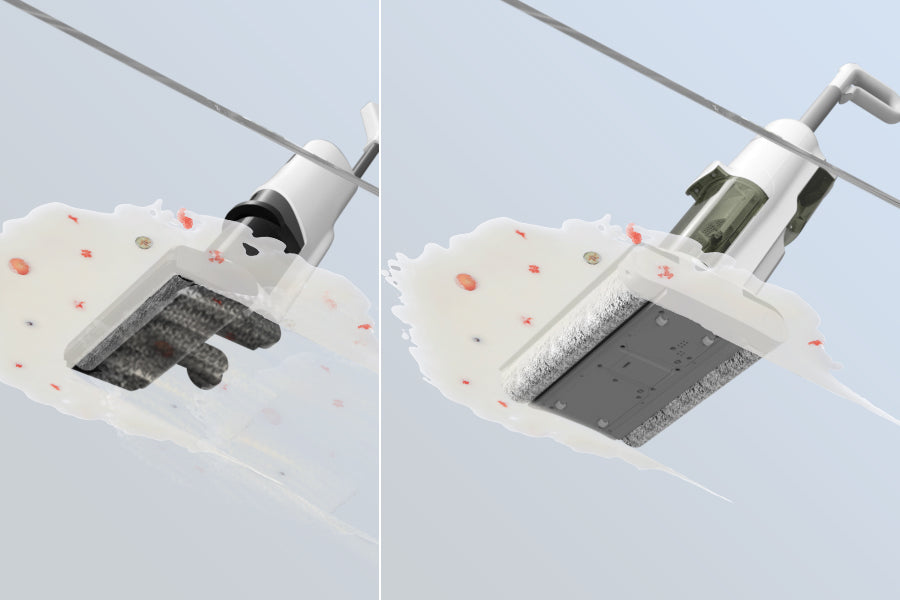 Improved Cleaning Performance
The two roller brushes work together to thoroughly scrub and clean floors, leaving them looking spotless and shiny. Thanks to its dual brush system, this cleaning machine is able to complete a cleaning job in half the time it would take a single-brush machine.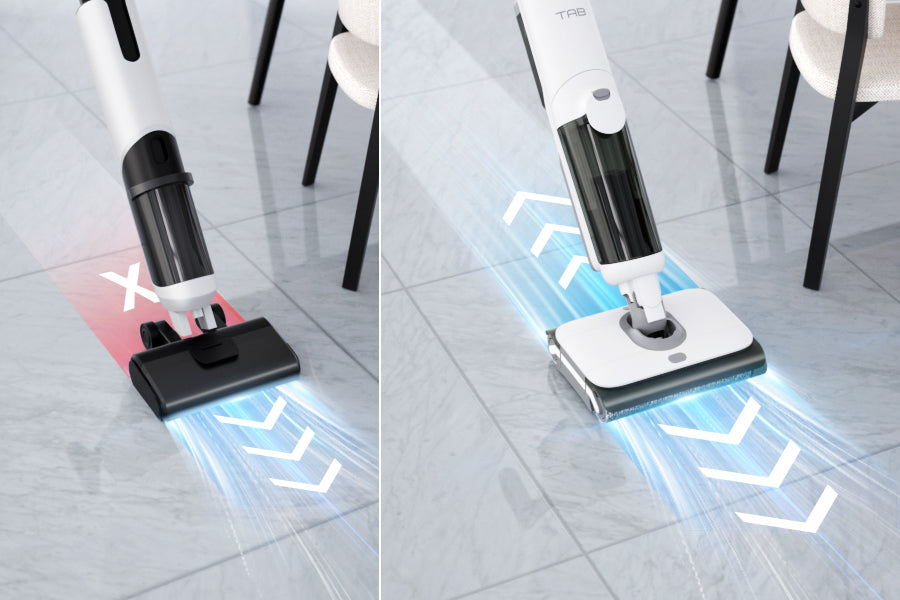 Easily Maneuverable
For the brush only turns forward, pushing the single brush vacuum forward will feel easy, while pulling it backwards will be difficult. In contrast, dual rolling motors have their own drives, which allows the vacuum to go over the floor like butter.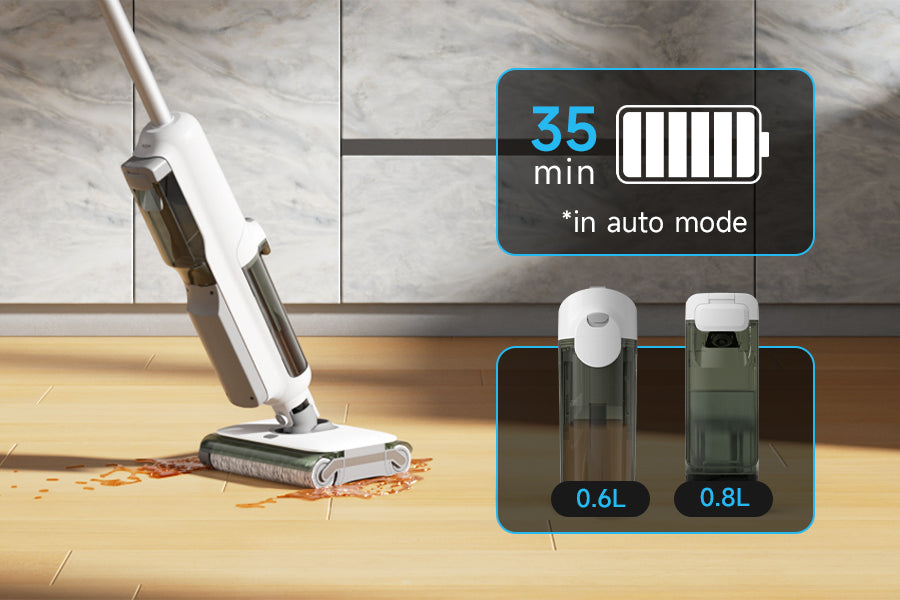 Cordless & Long Runtime
Its 0.8L clean water tank and 0.6L sewage tank, combined with a 35-minute battery life, allow you to effortlessly clean up to 1300 sq. ft. in one session.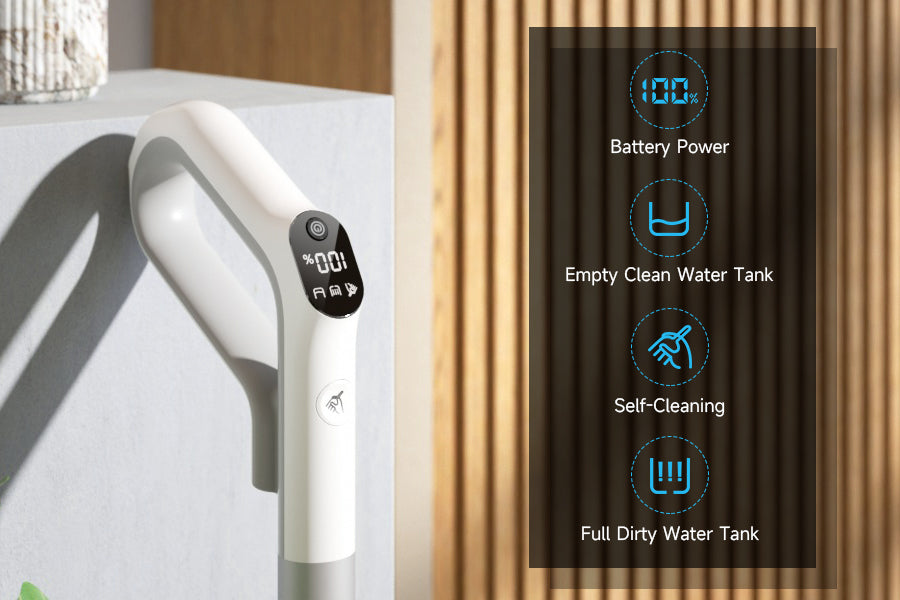 All-in-One LED Display
Easily monitor machine status, including water tank depletion and sewage tank fullness, directly from the display screen.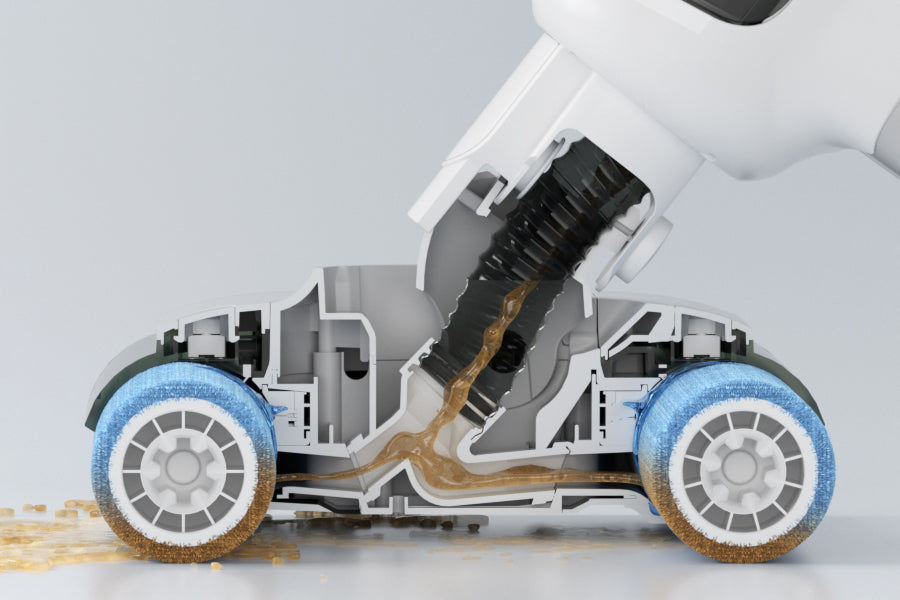 Always Clean Floors with Clean Water
With clean water evenly dispersed, the roller brush stays clean while washing the floors.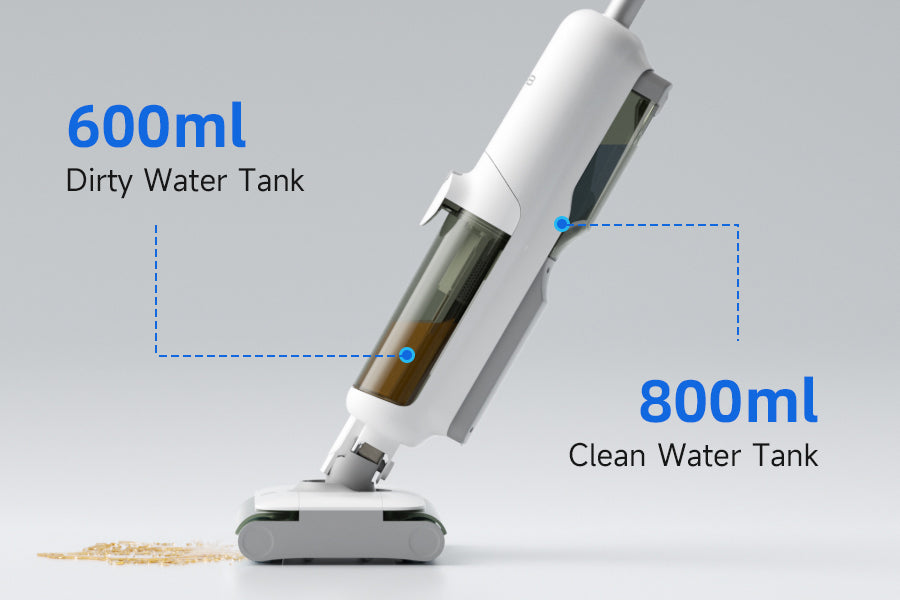 Separate Clean and Dirty Water Tanks
Two-Tank Tech keeps clean water separate from sewage. Forever clean messes with a fresh solution.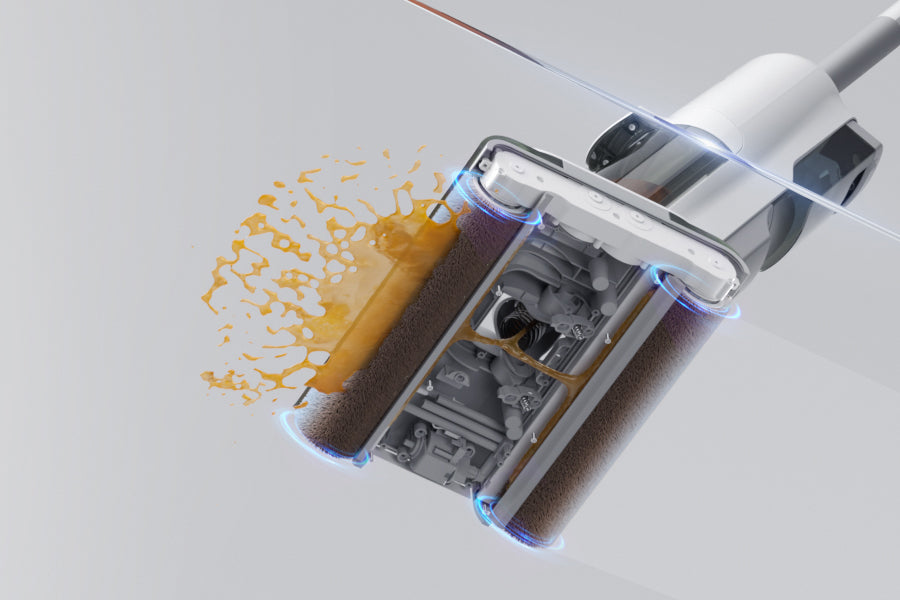 Sucks up Dirty Water Continuously
Better than a traditional mop, always clean with fresh water, leaving floors instantly dry.
Paking List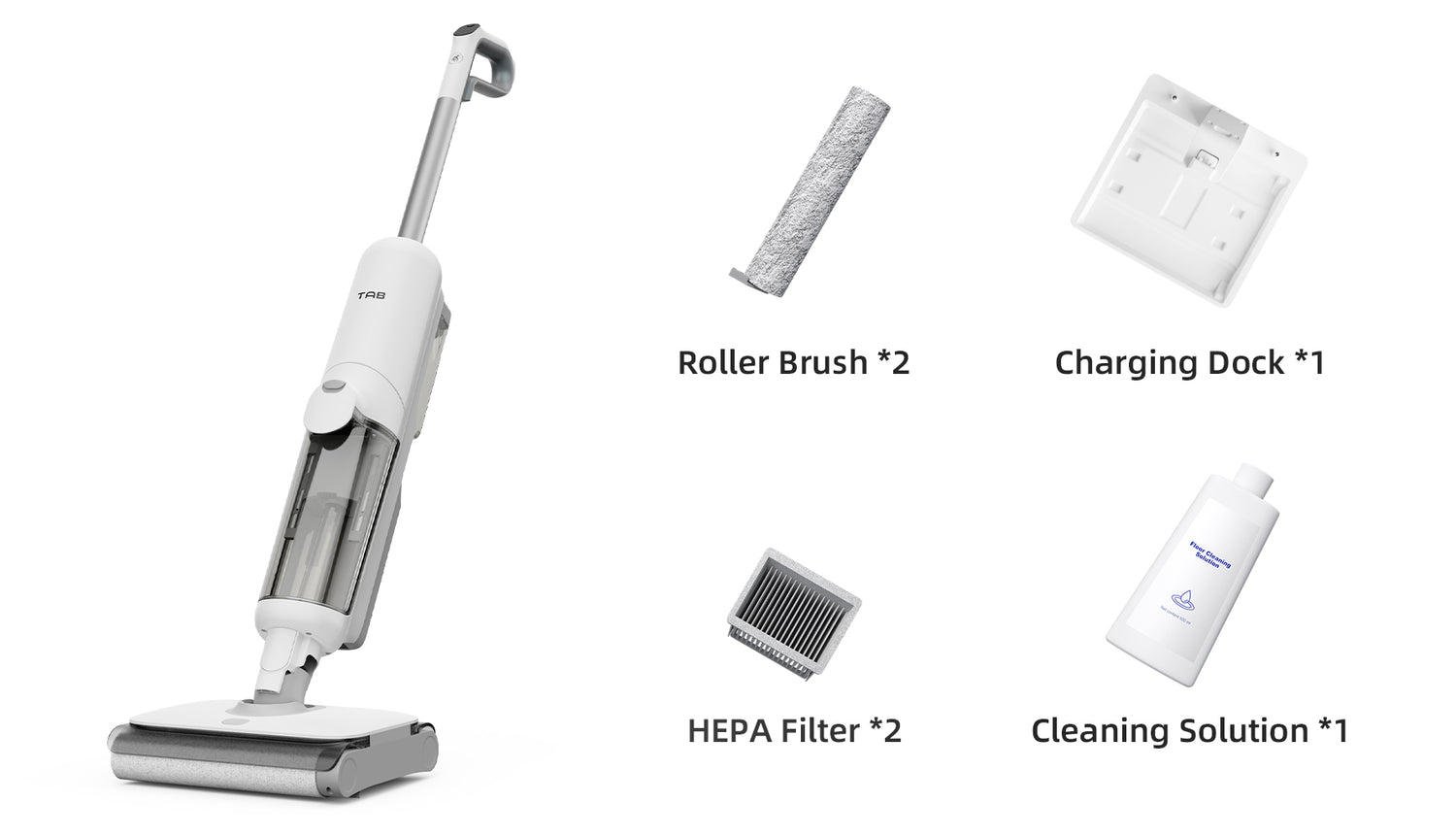 What's in the box
Main unit * 1
HEPA filters * 2
Rolling brush * 4
Cleaning solution * 1
Charging base assembly A * 1
Charging base assembly B * 1
Screw * 4
Screwdriver * 1
3-in-1 cleaning tool * 1
User Manuals
Download
Nice Wet Dry Vacuum Cleaner
This Cordless Wet Dry Vacuum Cleaner is amazing. It can vacuum and mop the floor at the same time. The cleaner also has a self cleaning function. Save lots of time! Full battery of charge can clean my whole 1600 sq ft house. It works great on hardwood and tile floors. The only inconvenient thing is the mop too big for cleaning under the sofa and bed. Other than that, I highly recommend it.
What a amazing machine
It was recommended by a friend. After the first time try I was shocked when I saw the dirty water, and so happy it saved me half time to clean my floor. And it is very easy to use, and allow it to self clean, there is no straining, blending or wringing out wet mops; It's truly like pushing a cordless vacuum around and does the double duty of vacuuming and washing.
A must have for hardwood floors
Great power mop! We have flooring throughout the house here and keeping it clean is such a chore! This one is great for really getting an effective job done quickly when you need it done well! I was impressed with the ability to even remove crayon marks on the floor (I have an almost 2yr old) and even though I couldn't get hard stuck on things like clay (don't ask, but same kid LOL!) it really does a nice job of keeping the floors fresh and clean! - the base doubles as a charger and a self cleaning dock, but I have been switching out the rollers every so often and washing and drying them to keep them always as fresh as they can be! - holds a good bit of water per tank and only needs a couple caps full of cleaning solution, especially when heavier mopping is needed (came with a decent size bottle of its own cleaning solution) - It comes with a cleaning brush tool to clean when swapping the rollers, but I typically just use a paper towel and haven't had much to complain about with it at all! I usually wait until after I place it in the charging dock and run the self cleaning cycle to dump the waste tank and boy you can really see how much gunk and grime you can pick up with this! Not really to be used as a standalone vacuum, (or for any carpeted floors), but the mode selection button will let you choose between smart clean mode and quick dry mode, I've been using mainly smart mode, but for quick spill pickups like juice and water, I like to use the quick dry mode - assembly was super simple and easy and I had it up and going after what felt like just a few minutes - overall this is an excellent power mop and with my family it's been a Huge win! 11/10 would get this again!
Great all-in one cleaner
This worked great on our hardwood floors kitchen . You can do floors quick without to vacuum first, vacuum and clean at the same time. I also like the self cleansing feature of the mop head. The machine was also easy to maneuver.
amazing vacuum
this vacuum has all the bells and whistles, the fact that I can use it for wet and dry is really nice, no assembly was required, and it is self cleaning! it takes so much of the work out of the process of cleaning.
Introducing of TAB T9 PRO
Instruction of TAB T9 PRO
How to Maintain TAB T9 PRO